She is really touching lives'  -LIZ DA SILVA
What is your comment on today's event?
My comment is a positive one to Iyabo Ojo. She has really made a name for herself. She has really helped so many people and I pray for her to continue doing this. It is Pinkies fifth anniversary to everyone, but to me it is like eight years or so, because I could remember when she called myself and Dayo Amusa, and one other lady in the year 2008 or 2009, I am not sure of the year, she told us about it that she wanted to go into NGO and stuff like that, but I couldn't start then. So, I will say it is her eighth anniversary to me because if she had started then, she would be eight years today.
What is your advice for Iyabo Ojo?
I will advice her to do her best because she is really touching so many people out there and I pray for God Almighty to continue giving her the privilege to do more.
'Not many will think of  doing this.  I'm greatly impressed' -MOJI OLAIYA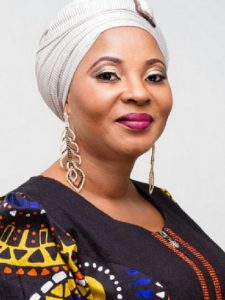 What is your comment on today's event?
Today's event is a very great one. I commend Iyabo Ojo for supporting the less privilege. Not so many people that will think of doing what she has done today. I am impressed, though some of us have been doing charity without coming out, but this is to say that she really have a heart and she has a place in heart for the less privilege. My prayer is that God will continue to support her, God will continue to strengthen and uphold her and provide for all her needs. All her children too will meet help and favour wherever they go and need favour. Wherever they did not even turn to for favour, they will meet help and favour including herself.
What is your advice for Iyabo Ojo?
She should continue with the good works, God is her pillar because I can't say anybody can be her pillar, she should just continue and see what God can do.
'I'm now thinkingof going into NGO'-BIODUN  OKEOWO
What is your comment on today's event?
I feel good, I enjoyed the programme.
What is your advice for Iyabo Ojo?
My advice for her is she should not relent. She is really doing a good job, a wonderful job. In fact, I am now thinking of going into NGO too. She is a good leader, she is like a boss in the industry. I met her and I will give it to her that she is a good leader. She is laying a good foundation that I believe everyone should imitate. So, I am actually thinking of following suite.
-TADE ASIFAT and GLORY OSIGWE
Related Stories:
Comments
comments