Ayo Makun, better known as AY, is a man of many callings! He is a comedian, actor, movie producer, businessman, husband and father; he has even tried his hands at singing.
The Ondo state native and brain behind the hugely successful flick 30 Days in Atlanta which broke Nigeria's box office sales record marked his 37th birthday in style as he was surrounded by family, friends and colleagues.
In this exclusive chat with ENCOMIUM Weekly's MICHAEL NWOKIKE, the happily-married father-of-one spoke on his birthday, marriage, his relationship with other comedians and plans for 30 Days in Atlanta sequel…
Happy birthday, Sir. How does it feel adding another year?
It feels great; adding another year makes me grateful for the blessings of God. As always, it gives me an opportunity to reminisce on all that could have been if God had not extended His grace towards me and blessed my efforts. So, I'm grateful.
What has life taught you in all your years?
One of the major lessons life has taught me is that you can never please everyone, so, there is no need to develop hypertension trying to do so. Imagine you attend a wedding and the place is overflowing with food and drinks but for some reason there is always someone who will complain that he did not get anything to eat or drink. That's one important thing I have learnt.
What's that one memory from your early days that you hold dear?
I lost my parents while I was still in university and all my memories of them are more precious to me than all the wealth in the world. The nuggets of wisdom they taught me and the love they lavished upon I and my siblings while they were alive are forever dear to me.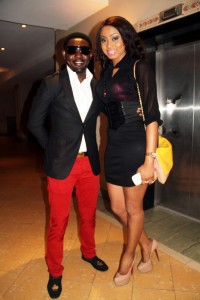 Congratulations on your recent acquisition of a G-Wagon, you have quite an impressive garage. Is it a birthday gift for yourself?
Thanks. Yes, the car is my personal pat on my back for the sleepless nights and countless trips.
As a family man, business owner and entertainer, how do you strike a balance to ensure that none of your roles is neglected?
My brother, it is not easy but two factors are paramount for anyone who has my kind of schedule. God's wisdom to enable one prioritize properly and an understanding wife who supports you wholeheartedly because without her support there will be no creative energy to expend on the business of entertainment.
How much time do you devote to your family?
I am a practical family man and my family is my life. I devote as much time as I can to my family. I like to take time off from my busy schedule and just kick back and have some quality family time. I have been married to Mabel for over six years and spending quality time with her and my mini me, Michelle, is usually the best moments of my day.
What is marriage like from your end?
My brother, marriage is sweet indeed and being married to my soulmate has made it even sweeter. Yes, there may be challenges especially when work makes me miss a family date but Mabel is an absolute angel and she is the wind beneath my wings.
You announced plans for 30 Days in Atlanta sequel. How's that coming along?
It's coming along nicely. We are currently putting finishing touches to our preparations and should enter location sometime in September.
Do you foresee it doing better than the first part?
That is my prayer. We have created a better story and put together a stronger cast in a bid to satisfy a larger audience range. We are also working on strategies to wade off piracy so that we don't have a repeat of what happened this year.
The first part was star studded, who are the stars you'd be featuring this time?
For now, let me just say we have all the major stars of Part 1 returning. We plan to do a major unveil of the entire cast soon and then I will reveal the new cast that will be joining us for the sequel.
Would the storyline in the sequel be a continuation of part one or there'd be a different twist to it?
It is both a continuation but with a major twist to the entire story that will amaze the audience. We want to serve the food hot so let me not say more for now.
There is speculation that you and fellow comedians Basketmouth and Bovi are not on talking terms considering also they don't attend or perform at your shows. How true or otherwise is this?
That is not true. They are brothers and God has blessed our career immensely and because of this we are all busy entertainers and most times, my events dates may clash with bookings they may already have and vice versa.
You are one of the few celebrities who have steered clear of major controversies. How have you maintained a clean slate over the years despite your success?
Being true to myself and God in my business and in my life is my strategy. In all my formative years, the only time you saw me confrontational was when I was fighting for the oppressed but with age and maturity comes wisdom and I have developed more civil ways to assist the oppressed.
Related Stories:
Comments
comments