-'She had been sick for 3 months'
-'Ate only breakfast and lunch'
'She was a disciplinarian'- Kemi Aderemi,  First grand daughter Our condolence on the death of your grandmother.
Thank you very much.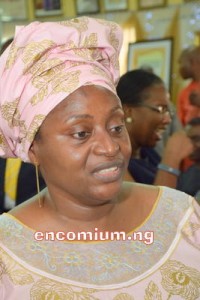 Where were you on the day she died?
I was with her. We just finished our meeting and everybody was departing and they came to call my mum that they were concerned about how she was breathing.  So, my mom went in to see her and I followed my mom.  My mom was holding her, calling mama, mama, mama.  She took a deep breath and that was it.  I walked in and my mom said, Kemi jiwon, jiwon, jiwon (wake her up, wake her up, wake her up).  She was saying mama, Omotola lo wa nbi.  But there was no response.  I tried to feel for a pulse, I saw that there was nothing. I said mummy, o da bi enipe mama ti lo (it seems Mama has passed on).
Are you a medical practitioner?
No, I am not.  But I know the places that you can touch to feel but I couldn't feel anything.  My aunt, Mrs. Dosumu came in and also tried to feel for a pulse, she couldn't.  Then the doctor came, felt for a pulse, tried to massage her heart and he confirmed that she had gone.
But before then did you have any one on one conversation with her?
We had a meeting and I was running late.  So, when I came, I rushed to her room to greet her.  She asked after my husband and my children.  She was even the one that said, Agbeke o ti late, come and start going for the meeting.  So, I left her room and I came for the meeting.  She joined us at some point during the meeting and prayed and prayed.  Throughout when she was with us she was just praying.  And when she finished she said she was going back inside.  She continued in her prayer as they were wheeling her in her chair back into the house.  That was my last conversation with her.
What would you say you miss about her?
I will miss everything about her.  She was my grandmother.  At times she was a mother to me and she was a friend.  Not many people can say their grandmothers are their friend.  My grandmother was my friend.  There was nothing that we couldn't talk about.  Even when she was upset with me, when she felt I was doing something wrong, she would correct me and advice me but she never condemned me and she always loved me.  She and papa were disciplinarians but indulge we their grandchildren a lot.  They were loving grandparents and we had fun times with them.
She was a disciplinarian too.  When I lived with her, she wakes up at 4 a.m and we had a complete church service every morning.   We would sing hymns, we would read the psalms, read the Bible and then pray.
In those days when she was selling lace, when the trailer comes to deliver her goods she would wake us up.  One day, I asked her why are you doing this?  You have house helps and you will still be asking us to load. She asked me, are they the ones spending the money?  She encouraged hard work, she encouraged patience in us, she encouraged tenacity in us, she encouraged fortitude.  She was a remarkable example of a mother and grandmother.  She was exemplary.  She was an only child but she has huge descendants after her. That gave her great joy. She was always happy to have her children, grandchildren and great grandchildren around.  She interacted with everybody.
Related Stories:
Comments
comments