Ohimai Atafo, fondly addressed as Mai by admirers, is one of the cerebral fashion designers that is making the very sexy dude by dint of hard work has carved a niche for himself and now he's one of the favourite designers and stylists Nigerians are crazy abut.
Apart from designing suits, plain dress shirts, trousers and ladies dresses, the style disciple has added a wedding line to his business. From wedding gowns the bride's maids outfit, groom's men equally does other things that relate to nuptials.
In this exclusive interview with ENCOMIUM Weekly on Friday, July 29, 2011, Mai spoke on his new line, fashion generally, his previous job, personal issues and lots more…
What has been happening to you recently?
I'm staging the official launch of my wedding like called Weddings By Mai, on Sunday, July 31, 2011. I'm showcasing everything I do for wedding. From the wedding gown to the bride's maids outfit, to the groom's men and groom's outfit.
What inspired Weddings by Mai?
It was actually business inspired than anything else. People get married every Saturday in Lagos. I have been making wedding gowns for almost 8 months now and I thought it would be nice to actually go out there, push out a collection so that people will know I do such things.
You worked with Munachi Abii, why was she chosen for the job?
Munachi has been a very good friend of mine for a long time now. Since she won the MBGN crown, we have worked together on a few things. When I was going to do a photo shoot for the line, we talked about it as a joke that she will model for me and she said, yes. She later modeled for me and she was nice.
You have also worked with top brands in the industry?
Yes. Principally for the launch, I thought that instead of doing the usual fashion show designers are conversant with, I decided to have a wedding reception. Basically for every wedding reception that promises to be wonderful, you have to meet the front liners. So, I got Newton and David o the decoration, Cakes By Tosan for cakes, Kots Catering for canapés. So, every element that makes uo those people together so that they could put in their expertise. When you see the place it looks as if there's a wedding going on.
Is it going to be an annual event?
Yes, we are going to make it annual and we are going to take it outside the country. Hopefully, I will equally do the same thing in Abuja this year and next year another Wedding, but we will always change the concept. It may not be only me showcasing. Nigerians designers that also make wedding gowns will also showcase their craft. It's a wedding show through and through, you come there to be entertained with everything wedding.
Why did you leave Guinness for fashion designing?
I wouldn't say I left Guinness Nigeria Plc, to be a fashion designer. I will say I took a career break because I enjoyed my job at Guinness and it was a lot of fun. I missed a lot. There was something that was burning in my heart to do fashion. So, I decided to do fashion. I'm leading my brand right now which, by the grace of God, is one of the biggest fashion brands in the country. It will get to a point I will ask people to manage my brand for me and I will be more than happy to work with Guinness of MTN.
Has it been worth the while?
It has been worth the while. I have more respect for business men and entrepreneurs right now because to move your business you have to be focused and this is one of the things I am learning.
What do you miss most about your previous job?
I mill being an oga but to be honest, I miss doing things at the level I used to. I used to manage projects that ran into billions, did national promotion that affected the whole country. There was a lot of money to do those things and I was always angaged with people daily, the brand consumers and what they believe about greatness. I miss that sincerely.
And how much of your experience as a manager have you brought to bear in your new business?
Definitely, all the experience but none of the money. If I have the kind of I had in Guinness to put into my business, Mai will be as big as Guinness itself. The experience has been invaluable.
Have you always been a fashion person?
I have always loved fashion right from childhood.
We also learnt you are a fashion consultant to Genevieve magazine. How has it been?
I'm the fashion editor of Geneveive magazine. It has been fantastic and fun. The organization is structured for me to be doing fashion editing for them.
How would you describe your job for Genevieve?
I think it's the number one fashion magazine in the country and also number one for style for women. This is what women look forward to every month to read and being a part of it has been interesting and gainful.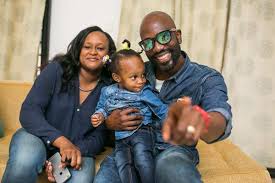 Let's go personal, how is married life?
It's been great. I'm married to the greatest woman on earth and I wouldn't trade her for anything at all.
How long have you been married?
I have been married for eight years.
Is your wife here in Nigeria with you?
Yes, she lives here in Nigeria with me. We lived in England before we came bac to Nigeria.
How are you coping with home and job?
It's been very demanding. To be honest, I work late. It's also a lot of fun because my wife helps and we are happy with the work.
Do you have a child?
I don't have any child yet.
Who is your favourite designer and why?
My favourite designer now is Tom Ford and the reason is just the fact that I like the way he does his things and his fashion campaign are very edgy bothering on sexy outfits, and his clothes are really nice. From his suits to all other dresses. I have been following him since he was with Gucci till now. He used to work with Gucci before he started his own.
What is style to you?
Style to me is just an expression of who you really are on the inside and you can express it through clothes, your cars, the way you talk, the way you cut your hair. A lot of things can be used to express yourself. Style is what you really are inside without blowing trumpet.
Who is your most fashionable Nigerians man/woman?
In Nigeria, the numero uno is Tony Elumelu. I like the way he wears those nice fitted suits. As a businessman, his suits are very nice. I also like Barrister Eyimofe Atake. He always plays with colours. He is an old man but he is really edgy with the way he wears his clothes. For women, I always like to pick Omowunmi Akinnifesi just because she is very gracious in her wears. You can never miss her on the red carpet. Another person I will like to call is Geneveive Nnaji. She always dressed well.
What is the future of the fashion industry in Nigeria?
I think the future of the industry in Nigeria has the potential to make it a definite structure that people can build on. For a country like Nigeria that is densely populated with lots of talents but do not have factories that can produce quantity outfits of international standard is a slap on our face. That is the only thing I think we are lacking. We are creative but how do we take the creativity out of Nigeria for the world to see. That is actually when we have a problem.
Where do you see Mai in five years?
I see Mai as a very solid and 100 percent Nigerian brand that people look forward to. I want to get international recognition. I'm not one of those that will run to UK to showcase all the time. I will first of all, want everyone in Nigeria to know me and want me.
2face and D'banj are doing their things here but people are still calling them from U.K, USA, Russia and some other places. That is exactly what I want for my Mai h-brand. I want to do my thing in Nigeria and people recognize me internationally. So, in five years, the Mai brand shoud have international and local recognition and acceptance.
Please tell us more about yourself.
My name is Ohimai Atafo, I am from Edo State. I have been designing for close to four years now. Three of those years were a kind of part-time because I was working. I was doing designing and working.
-CHINDINMA OBIONWU
*This story was first published in ENCOMIUM Weekly on Tuesday, August 2, 2011
Related Stories:
Comments
comments