In the past decade or more, it is obvious the Ghanaian comedy industry is yet to see the brighter side of things as compared to other African nations like Nigeria. However, the Ghanaian story is no different from that of Nigeria some three decades ago. Over time, with hard work and dedication, the industry has become one of the biggest investments that corporate bodies and individuals are willing to invest in.
In Ghana, we can speak of KSM of the KSM Show, who became a household name, via comedy and was known as the Ghanaian king of comedy.
Notwithstanding this, the centre stage in Ghana is dominated by comedians from neighbouring countries especially Nigeria. Top Nigerian comedians have become household names in Ghana, pulling more than 2,000 crowd per show. In this light, in Ghana, a few platforms are emerging to help search and project hidden talents that could help fill these void.
However, some notable comedians have emerged with the promise and determination to revolutionize the industry, all things being equal. These and many more were revealed to Encomium Weekly in an exclusive interview in two parts.
'Ghanaian standup comedy is now gaining prominence'
– DERRICK KOBINA BONNEY,  Ghanaian comedian
How did you find your way into comedy?
I will say it's not something I wanted to do as a child. I wanted to be a farmer and because of that I was consistently studying Agricultural Science and majored in that field in the university. Comedy was something that was burning in me. I thought I could be funnier than some comedians that I know. So, some time at the University of Ghana there was a comedy competition and I felt I could do better than the winner, so I told the MC to give me the microphone to do a little free style and my free style happened to be the best performance of the night. So friends kept advising me to take it up. I was wondering for real; take up comedy, a university graduate, you become a fool (laughs). I didn't want to do that, till I looked at the king of comedy at that, time KSM and I found he makes about 100,000 per night when he puts up a show. I was very greedy when I was doing  my calculations and it was as if I can do that, I am a rich man, because what job can give me 100,000 cedes a day unless I do drugs which I was not ready for, and I opted for comedy.
How will you describe the Ghanaian comedy industry and that of Nigeria?
I've said this, Nigerian comedy is at the master's degree and Ghanaian comedy is now graduating from kindergarten. More than 30 years ago, if I am not wrong, Ali Baba of Nigeria took up standup comedy, polished it and other stakeholders got involved, the corporate world got involved and 30 years afterwards here we are. Nigerian comedy is the biggest, busiest and the most lucrative, and any other adjective you can use to describe it with. Ghanaian standup comedy is now gaining prominence and we are so very far behind the Nigerian comedy. It's like the American dollar and the Zimbabwean dollar, there is a huge difference.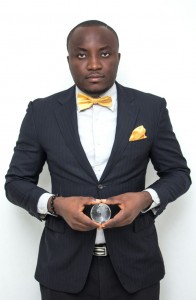 What can be done to raise the Ghanaian comedy industry bar?
I think the challenges we are going through is the same Nigerians went through when they started their journey, but the thing is, people go through challenges so that others can learn from it. The corporate world should also get involved. They don't have to wait and wait till it blossoms before they get involved. I am looking at that corporate company that would be credited as the first major sponsor of comedy. It's not all about venturing into a field that your competitors are in, pick up a field that they are not used to like Airtel does with Ebo Whyte, stage plays. Now, people know you talking Airtel you are talking about stage plays. MTN is trying with The Night of Laughs, once in a while, twice in a year. It's not enough. You look at others and you see most of their hit commercials are comedy based. Comedy based commercials can bring you hundred percent marketing stripes, I mean why not comedy.
But majority believe that Nigerian comedians are more humorous than their Ghanaian counterparts?
It's because Ghanaians have a penchant for foreign stuff. Two, Charter House introduced Nigerian comedy which is foreign. So, the attention will move. And there was a very big fight between Charter House and the Ghanaian comedians. Charter House had to protect their investment; A Night of Thousand Laughs which was majorly Nigerian and it's actually a Nigerian franchise. Pun upon pun, I have to demonize you to make my business look better. We were demonized so that their business could look better. It's not that Nigerian comedians are funnier, it the history behind it. There was a big fight between David Oscar and Charter House. He wanted to demand better  treatment for us…I don't really know the details of the story, but it boils down to a big fight between the two parties and it was about who can drag each other in the mud better and of course Charter House is a big wig. They really wounded us, by making people believe that we were not better. But I believe in comedy once you can speak and have control over the language, you can make anybody laugh, people make other people laugh in native language, why not in English. And also, Nigerian comedy industry has developed, reason why, practice makes a man better. They have been practicing that's why they seem better. So, we have started practicing and making bigger progress. And yes! We are driving it and you can't practice without a reason, so we have designed our own comedy shows. One goes on once a month at Silver Lounge which is called Comedy Bar, and I have my comedy tour called DKB Live and then David Oscar has Corporate Comedy series. Foster also has a Comedy Fiesta, all these platforms are where we rehearse, not rehearse per se, but to perform and try new jokes, so that when we get shows or go to events, we can serve the laughter better. I mean, after the fight came the break point for the fight. It was when I got on the stage of Thousand and Eighteen Laughs I proved everybody wrong. When I say everybody, I mean from its audience to the cameramen and they realized Ghanaians could also do it.
What should a comedian take to the stage so as to put a good performance?
First, know your crowd. You can't use a Ghanaian content for Nigerian audience and vice versa. You need to know your audience before you serve them and look at the trending issues, current affairs, relationships, social issues and pick your view on how you see things and your view becomes your joke, so that when somebody steals your view that person has stolen your joke. And prayers, you need to have God on your side because He gives talent. He helped me through A Thousand And Eighteen Nights and today history has changed.
Do you have a cordial relationship with any Nigerian comedian?
Yeah, I flew out of Ghana to join Africa's best comedian in Uganda 2011 and I met Odogwu, Jasfestra and a comedian called Kofi. So yeah, vibe, we get on very well. On Thousand And Eighteen Laugh, I made friends with Bovi, Dan d Humorous, Funny Bone, Gordons, Okey Bakassi and Lord of the ribs. I chatted with Basketmouth and Sim Card, I have them on my WhatsApp, so we vibe, we don't behave differently.
What is your source of inspiration?
I draw inspiration from lots of people. KSM, Trevor Noah, Eddy Griffin, Richard Bryan.
What other things are you involved in aside comedy?
I'm a TV presenter, I am also looking at redesigning my old TV show and bring back on TV, intensify my comedy tour and eventually end the tour with a massive show at the National Theatre and groom other young talents, chase few ambassadorial deals, so that we can relax and chop the money small.( laughs)
Do you think the Ghanaian comedy industry can also attain the same standard of that of Nigeria?
Yeah! Easy, why, because foreign is foreign. Here we are in Ghana, and the comedians are local because this is Ghana and Nigerian comedians are foreign because they are not Ghanaian. If I go to Nigeria, which of course I will go pretty soon, first, my accent is not same as theirs, and how I will pick issues will be different from theirs too, and that will give the audience a different angle of laughter. That will make me stand out, because in Nigeria, comedians and their jokes are local, but anything from Ghana is foreign. So, foreign factor will make me stand out because I am pretty much different. I mean little did we know that Ghanaian music would make so much impact in Nigeria, till VIP broke through, Tic Tac, Mzbell, Sarkodie, Guru with Lapaz Toyota. So it's very possible.
You were part of BBA in 2012. What lesson did you learn from the house?
It made me realize that Africa is just one big family that lost their GPS, some ended in the south, east and the west, because we are practically the same. Some of the utterances we say are the same. In Ghana we call Jesus, Yesu and in South Africa He's called Yesu, so I don't know what more is familiar than that.
Advice for up and coming comedians?
Don't disrespect. If you disrespect me, I will find you because I don't joke with social network and if you slander me, I will block you and mark your name down. Whatever that person is involved with, there will be no progress, because you wanted to spoil my work, and assuming you spoilt it, would I have progressed to where I am. I am very passionate; if you insult me I would insult you. If you have any dream, I will appear in that dream. By the time you wake up that dream is spoilt (laughs). There is no way I will disrespect Basketmouth, Gordons, Ali Baba, KSM, Trevor Noah, Salvador, because they were in the game before I got there. So why would you disrespect. Oh!  This guy is whack, he is stupid…and then tomorrow you come to me for consultation, I will give you poisoned consultation (laughs). So, respect your leaders in the game, work hard, pick motivations from them, and learn how they throw their jokes and which angle they take them from. Be current, practice a lot, sacrifice a lot of shows, don't look at the money, it will come by itself.
Related Stories:
Comments
comments