On Wednesday, April 15, 2015, news broke that a Nigerian radio presenter, Ms. Adaeze Onyinyechi Ayoka, also known as Adalicious Ada, who works with a private radio station in Accra, Ghana, Yfm was abducted and gang raped by unknown men in Takoradi, Central region. It was also reported that the unidentified men took pictures of the alleged sexual assault and posted them on social media. There was a pubic cry that the law enforcement agents must make sure the rapists were brought to book for their criminal act in order to help fight the victimization of women.
However, the story has taken a new turn as police disclosed during a press briefing that the sexual assault was staged. Speaking on behalf of the police, Regional Police PRO, ASP Effia Tengey said, police investigations revealed that the said victim had been kidnapped five times, three out of those incidents were reported and two unreported. The staged rape story was a mastermind of her boyfriend, Rahman Nunoo and three other suspects in Accra in a hotel and not in Takoradi as reported. She added that one of the suspects helping the police investigation is 18 year old Nelson Williams. He told the police that it all happened with the victim's consent and therefore erased sexual assault.
It was also revealed that Ms. Adaeze who lied to her employers that she is a native of Umuahia in Abia State, with claims that her father is a Nigerian while her mother is a Ghanaian, is actually from Akimoda in the Eastern part of Ghana with the birth name, Persis Nana Akosua Appiah Antwi and was expelled from senior high school in 2008, over theft according to some of her old classmates.
To establish the truth, a psychiatrist at the brain clinic in Abokobi, Accra, Ghana, Dr. Yao Nfodioh, who has been treating her added that Ms. Ada is suffering from psychological disorder. "There is evidence of fluctuating moods; periods of depression associated with suicide attempts as well as times she had a sense of feeling of a lot of energy. There is history of unpredictable behaviour, the alleged rape and also established pattern of behaviour", Dr. Yao added. "There were a number of rape incidents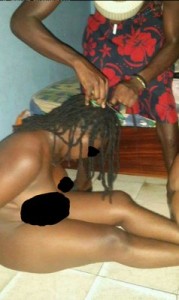 reported by the police. There were times Ada felt special as well as sometimes she had differences and limitless energy. Based on all these, there was preponderance of a mode problem on Ada, so we came to the conclusion of a working diagnosis of a bipolar mode disorder".
Out of curiosity, you might want to ask how it is possible for a sane woman to stage a rape case for herself and also go public about it. When she was asked to state her side of the story she said, "There is too much I don't even understand. There are some stories I don't know where they are coming from and I think there are some things you should take to the police. I've been virtually going back and forth with the police, they have to do their bit and I have to do my bit. You have heard a lot. At a point I was asking questions that people were supposed to ask me. In all of them, I don't know what to say whether it was true or not, but I have my side of the story and I think I will tell you my side of the story at my own time".
She said she is blank on how the pictures went viral or how she ended up in Takoradi were the rape supposedly happened.
ASP Effia, however added that, Ms. Ada's story of abduction and rape has proved unreliable, while a mental examination is also important before her yet-to-be- taken official statement on the alleged ordeal can be given credibility.
-ADEBUKOLA ADENEYE- EDAH
Related Stories:
Comments
comments