Olajumoke Orisaguna, the 27 year old bread hawker turned model is yet to move into her three bedroom apartment. Sources squealed to ENCOMIUM Weekly that renovation is still on.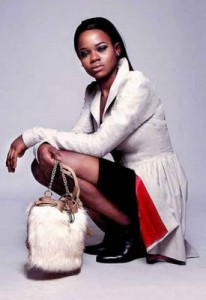 "Olajumoke's house will soon be ready. The renovation is almost complete. They are already at the final stage. The Orisagunas should be ready to move in anytime from now.
"They just want a decent and presentable place for them, that is why it is taking this long."
We reliably gathered that the Orisagunas will move into their new place in a week. The building will house the 27 year old mother of two with her children (Grace, five, Precious, 16 months) and Sunday Orisaguna, her aluminum windows and doors installer husband.
Fortune has not stopped smiling on the pretty and slim woman since she photo-bomb by celebrity photographer, TY Bello during a photoshoot with UK based artiste, Tinnie Tempah for ThisDay Style magazine.
The hawker turned model has raked in millions from brands and well meaning Nigerians who came to her rescue. The apartment under renovation was given to the Orisagunas courtesy of Sijimoto Construction boss, Sijibomi Ogundele. The apartment comes fully furnished with five year rent paid by the young philanthropist.
Her picture on the ThisDay Style magazine catapulted her into a product raking in millions. Olajumoke made N1 million from Payporte as its ambassador, scholarship for her children to university level from Stanbic IBTC Bank, N100,000 and clothes from Divine Endowment.
Another $3,000 from an anonymous donor, N1 million from Shirley Confectionery as ambassador, N500,000 from Madam Biobak (owner of popular Abuja restaurant), 3-bedroom apartment in Surulere, Lagos from Sijimoto's Sijibomi Ogundele, training in communication and etiquette paid for by Sijimoto, about N50,000 from the fashion show at Polo Club, Ikoyi, Lagos, with lots more juicy offers in the offing.
Olajumoke Orisaguna became the most talked about Nigerian on Tuesday, February 2, 2016, when she unknowingly walked into a photoshoot by society photographer, TY Bello for UK based artiste, Tinnie Tempah for ThisDay Style magazine.
TY Bello didn't think much about the pictures until people started asking if the bread hawker was a model. She asked her assistants to go back to the location of the shoot and ask around for Jumoke.
Olajumoke was brought to her studio after someone showed Jumoke her photograph on Facebook and since then she became a star.
According to TY Bello who discovered Olajumoke, she was a hairstylist from Iree, Osun state, but wasn't making enough money along with her husband, Sunday, who is a sliding door installer to take care of their two children.
A distant relative, who knew someone operating a bakery invited her to Lagos to hawk bread. Olajumoke relocated to Lagos to give bread hawking a try. She left behind her husband and five year old first child. She lived in the bakery with other in-house workers and bread sellers and made a profit of between N300 and N700 daily.
Jumoke's story has inspired a lot of people and many have been tapping into her kind of miracle, as it is a typical rags to riches tale that sounds like a lie. She has been offered internship at Make Me Salon and Sari Signatures a popular Lebanese owned salon in Victoria Island, Lagos.
Jumoke appeared on CNN where she shared her story with CNN's Stephanie Busari. She featured on Huffington Post, a popular website, in a post entitled, How to get a modelling contract, Olajumoke Orisaguna.
Buzzfeed also featured her on their website in a post entitled This women accidentally photobombed a pop star and ended up with a modelling contract.
She was made the cover of all major Nigerian newspapers, magazines and many television stations. She signed a marketing deal with FEW Models.
Related Stories:
Comments
comments