Veteran music producer, song writer and singer, OJB Jezreel (Babatunde Okungbowa) would remain forever grateful to Almighty God for sparing his life after undergoing kidney surgery thrice in India. Revealing this in an exclusive interview with ENCOMIUM Weekly's Associate Editor, Uche Olehi, on Wednesday, March 5, 2014, OJB said he wasn't better than some of his friends who couldn't survive the major surgery.
He, however, explained that though his health has relatively normalized, there are still minor after-surgery effects he has to contend with. He spoke further on the support of his family of three wives and eight children, the now completed Surulere, Lagos house, the OJB Foundation, new album in the works and why he has to return to work…
How is your health at the moment?
It is a lot better. There are challenges obviously. You wake one morning and you are surprisingly losing your sight. Some just suddenly start adding some unnecessary weight. I have a friend who was bald, but after the transplant, he suddenly started growing hair.
So, you have different reactions to it which are natural. Your doctor would tell you there are certainly some after surgery effects and you just have to learn how to change your diet again. Like when I woke and the eye thing started, I just had to change my diet and do more exercise.
And before I knew it, it started clearing. So, it is a process. I'm learning to live with it, because it will help me to help others, too. Those about to experience can appreciate the challenges and the fact there is no cause for alarm.
What is your diet like now?
I put it in percentages. Let's say in a meal, I'm expected to have say 25 percent of carbohydrate. Then, I share the remaining percentage between vegetable and protein.
My family has been extremely supportive. If you look at it, it has been me and my first wife, Mama J, who really went through it all. But the other two have been putting their strength behind us. They have been petting us like mad, especially my third wife despite her tight schedule.
How does it feel to get them all re-united during your thanksgiving?
I think the thanksgiving was one of the greatest experiences for me. The thing is that, irrespective of differences between humans, you don't need to marry three wives before they decide to have differences or not. Even brothers and sisters have
differences. The truth is that this is life we are talking about. This is the provider of the family at the point of death.
That was what it was all about. And having survived it, the family saw it as an opportunity to come together to thank God for His mercies.
And all Nigerians who rallied behind you in prayers and financial support?
I was at a point in my life that I wasn't sure people still have anything (empathy) for OJB. You don't feel like they are connected to you anymore. But the way Nigerians came out concerning my matter was awesome. In fact, I'm overwhelmed. You won't understand it. It is like the life you are living now is by reason of their prayers and emotional support, not just about money. Yes, I have to go back to India latest, June, July for further check-up. But I still do that regularly here in Nigeria.
You have finally moved into your new abode. What have you got here?
Funny enough, it is just something simple. After surgery, one of the greatest problem a patient faces is his/her environment. You need a place that wouldn't compromise your health. The way I was running the house before wouldn't have helped issues.
The studio and everything were at the same place, people came in and went out in a studio environment and I don't need all of that any more. When they drink and smoke, you can't control it unlike what we have now. So, there is nothing special as you can see.
How much did this house really cost you?
I wish I could arrive at a definite cost. Do you know that as we were building, people were also supporting us with building materials. We only wait for the delivery. We may have probably spent between five and six million but we cannot quantify people's support.
Are there commercial productions going on in your studio right now?
No. I have spent over 20 years 'slaving'. And I think it is about time I started focusing on myself.
So, what exactly are you doing for yourself right now?
I'm working on my album. I have already dropped three singles. They are out there. People are already feeling it. We have Not Afraid, Zion and Locho, Agbor, Delta State native slang for dance.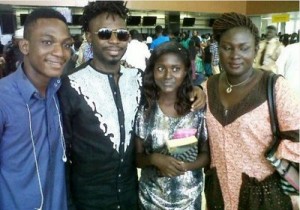 When is the album dropping?
July, August, 2014.
You seem to have returned to social life, so to speak?
Yes, I have to. The fact is that I'm very grateful for the support of Nigerians but they are not going to be helping me forever. They are not going to raise money again for my feeding and other basic needs. So, I have to get back to the circle. This is the job I've been doing to earn a living for more than two decades.
You now have a new look with beards, why?
First, the white hair are coming up and there is no point dying them. I'm no longer a young man. You are not 22. No matter how you try. Good, God has blessed me with a good look and slim body but nature must take its course.
You cannot deny the fact that you are well over 45. So, the new look is about the fact that I'm accepting my new me, I'm loving the new me. I'm just trying to make a better look out of the new me. I love me like this now.
What is happening to the foundation you set up to assist those with kidney diseases?
We are about to start the programme. We don't just want to be begging for funds. We have to look for a sustainable format. So, we want to start a Save 20 Campaign. From there, we move on with the support of the private sector, government and non-governmental organization, NGOs.
What is the name of the foundation?
OJB Foundation. We are trying to set up one or two dialysis centres which patients will use at highly affordable cost. To this effect, we are discussing with partners who would make it happen.
What is your typical day like?
I wake around 6.30, 7am. If I'm not going anywhere, I do lot of prayers. Trust me, it's all about God. I have friends we do this together and some of them are no more. So, my thank-you to God never stops. I rest a bit. My friends come later and I discus with my manager what to do that particular day. I'm now more organized.
If I'm going out, I plan my movement so I don't over stress myself. If it's a night event, I can't stay beyond 2am and I would have made arrangements as regards where I will sleep.
Since you returned from India, what were the major events you have attended?
I was at Ovation Red Carol in Ghana. I did the celebrity Praiz Tonight (Wednesday, March 5, 2014). I would be attending Industry Nite. They are hosting my lovely daughter, Yemi Alade.
A bit more about your roots. Are your parents still alive?
My mom is late, but dad is alive, well and kicking. He is 86. He is Chief Anthony Okungbowa, from Agbor, Delta State.
Having gone through all these and survived, what are you most grateful to God for and what is your ultimate ambition?
I'm most grateful to God for my life and my family. I often hear that people die and come back. I mean, three times on the surgery table. Doctors had to jump start me to make sure I didn't die. There was almost a similar incident again after the kidney surgery. And I'm still here today, alive. I think more than anything, I'm grateful to God for my life. My ultimate ambition is to be able to make enough money to touch lives.
Comments
comments