Inspired by the controversies surrounding the early narratives of Lagos, the 500 cast movie, Eko: Blessings of Olofin was for premiere in Lagos on Saturday, August 20, 2016, steeped in cultural ethos, the 90 minute movie features Yemi Blaq, Jide Kosoko, Adeleye Adesile, Bukky Wright, amongst others.
The movie screening is part of the activities marking the celebration of Lagos at 50 and it will be subtitled in English, French and German.
ENCOMIUM Weekly on Friday, August 12, 2016 had an interview with the producer of the film, Fola Onifade and the Director, Femi Eketunde and they spoke extensively about the movie…
What inspired the movie, Eko?
The first inspiration came from the controversy surrounding the ownership of Lagos. Any controversial story is sure to sell because people want to know how it will end. It was a fairly decision to settle for Lagos because we had three options, the first being Moremi (the sacrifice of a mother), the second one is Owu (the First Republic) and the third one is Lagos, Ewure Olofin. So, we settled for Lagos because Lagos is above every other city in Nigeria. It is very appropriate for us to start from Lagos. The other consideration will be market due to the population that lives in Lagos.
In the process of casting, what were the considerations?
Casting is a very specialized aspect in movie making. You have to pick the right person to get the right result and because our consideration for Olofin was that was wanted somebody who is not a known face in the Yoruba genre and who is a very popular actor who has an imposing character, gentle, good looking with a baritone voice. So, it was easy to settle for Yemi Blaq and actors in the class of Yemi Blaq don't come easily. So, we have to break the bank to get him and to convince him to do it.
But the beauty of it is a lot of people will be surprised to see him acting Olofin because when you are not used to something and people just suddenly find you doing it, they will be surprised.
How easy was it for you writing the script even with the controversies trailing Lagos?
Yes see, I look at it from a business angle and as a businessman. So, what I did was, since it is not my business to write the story, someone wrote the story, my business is to look at the script and know that this is a story that will sell. The second thing is to make sure that everybody will do exactly what I want them to do and that was what I had to achieve
We heard you said that it is going to be subtitled in English, French and German. How do you plan to do that knowing full well that there will be a lot of interpretations and orikis?
My background is advertising, where we sit and make sense out of words. So, it will be failing on my part if after 20 years doing advertising, I cannot interpret. Even at that, I still got somebody to interpret and indicate the meaning. For the person that interpreted alone, we paid good money, though people were skeptical about it. They said he will do what others do that is when you say another thing, he will interprete a different thing.
People will not appreciate our language f we don't let them know the rhymes of the Ifa Oriki. But due to our eagerness to do away with our culture, that is what has put us where we are today. Like when we were growing up, the kind of Yoruba we spoke was with proverbs. But now, people just speak Yoruba. Like I tell people if we are not careful, in 50 years, we will do away with our language and not just Yoruba, other languages as well.
How much did the movie gulp?
This question just keeps coming. Let me give you an idea of getting a Yemi Blaq on set, a Bukky Wright, Iya Awero, Tafa Tobiloba, Jaiye Kuti, Tope Bale, Bisola Badmus, like 50 of them, they will be paid, putting them in a hotel for like seven weeks, on different locations and feeding them every day. When we started, we had a budget of N20 million but we spent more than N50 million to put the film together.
How many were the cast?
Everybody that was on set were more than 500 because when we were in Badagry, we were occupying 40 rooms and even at that, we had to pair them into three per room and some slept on the beach.
Is this movie for commercial gain?
Every business is commercial. If government had given me money to shoot a movie on the history of Lagos, I may not have put in as much effort as I have. I might not have sacrificed as much as I have but all those period I was on location with them, sleeping on the beach, sharing hotel rooms, I paid in cash and kind. I used my money, my body and my spirit to drive this. So, I think things like this are better run by individual businessmen with the support of the government.
Who are the producers of the film?
I am the producer, Abidemi Morieno Taiwo, Bukky Wright and Soji Oladokun.
How do you intend to recoup the money you have spent?
When people come on Saturday for the premiere and see what we have done, at least they will appreciate us and give us money. So, we are looking up to them to support us.
'It's a must watch' -FEMI EKETUNDE,  director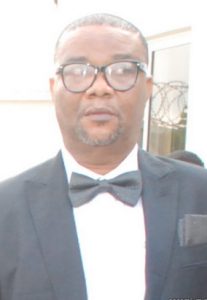 How was it being the director of this movie?
I see it as the most authentic story, with the controversy surrounding it until it became Lagos.
When you got the script, how did you feel knowing too well that there were controversies about Lagos?
I felt so happy that I will be one of those in this huge project and people trying to find out the actual fact about Lagos. So, I got the story from concept. I also went to people that matter and got the actual fact from that about Lagos.
How did you feel working with the cast of the movie?
I was happy working with the cast even with the fact that there were so many challenges from some of the crew.
Can you tell us some of the challenges you encountered?
The challenges were quiet eminent. Like some people came up to say I cannot do the job that they should choose the right person for the job. There were so many backbiting. There were so many hear say, so many name calling. Many people thought I could not do it, even one of the crew called for an emergency meeting about my performance on the job and when the producer called me, I said that was the second day on the job. He asked I needed a co-director to help me with the job and I said, for a project of this magnitude and the first day I am able to shoot seven to eight scenes, can any director in any capacity do more than what I have done.
So, what must have prompted you bringing another director, and when the executive producer asked me if I will be comfortable working with another director, I said no. He should allow me do my job.
Why your choice of cast?
Casting is all about vision. I chose the right and perfect casta lthough, people tried to talk me out from using some people I went for the professionals that will get me what I wanted. I believe a lot with Yemi Blaq. I wanted someone new to the audience but he must be a professional actor, same thing for Aina Agun. In the story, Aina Agun was a very beautiful woman, wealthy and influential. So, I believe that someone that is very influential and could go from here to Benin would be Bukky Wright.
How was it for you moving from one location to another?
It was easy because it my job and it is what I have been doing for three decades.
How long was the shooting?
It took almost one and half months to two months.
When you had the injury on your shoulder, didn't you think you should leave the job?
It was terrible. It was not an easy thing. Imagine someone's shoulder dislocating. It was bad. Even the producer called me and said we should take a break but when I thought about the money he has spent and the fact that the job was about to take off, and the producer has paid almost all the actors and crew members, I thought about all that and I told him not to worry that I will continue.
So, I was working with my hand on bandage throughout.
Why should I should Eko?
You have to go to the cinema and watch Eko because there is nothing like it. You will find it exciting. You must now the real fact about Lagos, where you live.
With Lagos at 50 and the premiere of the movie holding the same day, don't you think people will sya it was sponsored by Lagos state government?
In fact, a lot of people have started talking. Most of the cast thought the same thing, but the truth is the movie was shot over two years ago and it was shot without the backing of nobody. So, people will definitely think so, but it is not true.
-GLORY OSIGWE
Related Stories:
Comments
comments