There's more to pageantry than the glamour, glitz and long floral gowns; that is what strikes you when you meet Olamide Kikanwa Aroguma, the Miss Global Peace Nigeria 2015.
She is passionate about women and girls empowerment, and as such, she has spent time as a beauty queen holding skill acquisition programmes where participants are taught how to make beads, tie head gears (gele), makeup artistry and others.
In this interview with ENCOMIUM Weekly's MICHAEL NWOKIKE, the fair beauty talked about her reign, why and how she got into pageantry and what drives her…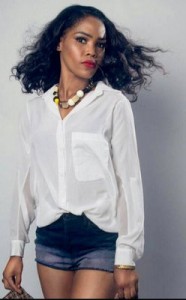 What has your reign as Miss Global Peace Nigeria been like?
It's been wonderful. The joy that comes with helping people is something you can never forget, it stays with you.
At the pageant finals before the names of the winners were announced, what was going through your mind?
Normally, one doesn't know who would be announced the winner, but you just hope. There was the usual anxiety and all that.
Did you think you would win from the onset and what do you think gave you the edge?
You go into things like this hoping you win like everybody else, and you just give it your best shot. So, when I was announced the winner, I just thought this was an avenue for me. I would say it's just God that made me win. Not because I was perfect or anything.
What have you been working on since your were crowned?
I have been working on my empowerment programme which is a skill acquisition thing where we've been teaching women and girls different skills like tying gele, making beads, make up and the likes. You don't just say the economy is bad then you fold your arms and do nothing.
What has been the response to that so far?
People have been turning up, it's been wonderful.
Has it been strictly in Lagos?
For now, yes, just Lagos. But we are looking at going to other parts of the country.
What else do you plan between now and the end of the year?
My management and I have quite a lot of things we are working on. We plan to visit the Internally Displaced Persons (IDPs) camps in Abuja and other places in the north to impart on them as much as we can.
As a person, what drives you?
First, God. God is my ultimate motivation. Then, the drive to want to help the next person. I always want to ensure that the next person is faring well. The joy that comes with helping people, seeing those smiles on their faces drives me to want to do more.
What made you go into modelling and pageantry?
You know this popular belief about skinny girls, people always say that as a lepa, you should be a model. They'll point at the likes of Agbani Darego. And it makes you to look at yourself and think 'they may be right'. I would say that's one of the things.
How did modelling start for you?
I started modelling after MBGN 2011. After the pageant, I just thought I should pursue this career. MBGN 2011 was my first attempt at modelling and pageantry.
Which do you prefer, runway shows or pageantry?
I don't have any particular preference, I'm good with anything that has to do with modelling. Be it runway shows, pageantry or adverts. All of them.
What are the qualities you possess that you would say brought you this much success so far?
The number one reason for my success is God. You don't just wake up and say you want to achieve success and it happens, no. God has to have a hand in it for you to achieve anything. I don't think it's about having one special quality or some special qualities others do not have.
As a model and beauty queen, you would be getting a lot of praise and encomiums. It could get into the head sometimes, so how do you remain grounded?
The first thing is my personality, it helps me. I'm a very down-to-earth person. I know that and people have also told me this, too. That works for me. Also knowing where I'm coming from and not forgetting what
I've been through, and I understand that I'm just opportuned to be where I am today. Not that I'm special. Aside that, my mom and my sister also help keep me grounded.
What was growing up like?
Growing up was fun, I was a tomboy. Back then, I used to wear jeans and all that. I never thought or imagined I would be a model or beauty queen. I was a typical tomboy.
Tell us about yourself?
I'm from a family of four, myself, my sister and my parents. We used to get a lot of attention.
As a beauty queen, at almost every time, you have to keep up the beauty queen look. How do you maintain that?
Yeah, it can be tasking. You have extra hours putting up the look. For instance, I have an appointment for five, I'll start getting prepared by three. But it's wonderful.
What's your beauty routine to maintain your look?
Interestingly, I don't have any special routine. I make sure I take a cup of water when I get up in the morning, no special treatment or anything. Sometimes, I don't even apply cream, so it's nothing special. It's just nature. I don't believe in using a lot of creams because of all the chemicals yet when people see me they compliment my skin. I believe in staying natural.
What beauty advice would you give to ladies?
Look good, but make sure you don't break the bank do it within your budget. And don't go buying something that will instead of making you look good, will spoil your skin. It's not about how expensive the product is, even the cheap product could suit you better than the expensive one.
Describe your fashion style?
My fashion style is simple, elegant and chic. For me, it's not about how much what you are wearing is worth, but about how you wear it. It depends on your self confidence and how you carry yourself. Just because you see someone wearing a dress doesn't mean you should go get same, it might not look good on you.
What influences what you wear?
The weather and my mood.
Finally, what is life like as a beauty queen?
Hectic, but fun.
Related Stories:
Comments
comments