IF there is one person who is extremely happy at the moment, it is Mrs. Folorunsho Alakija, the CEO of Rose of Sharon Foundation.  Apart from doing the work that pleases her heart, the frontline fashion designer who ruled the fashion scene in the 80s, 90s and early 2000, will clock 60 in July 2011, and she has every cause to rejoice.  She spoke exclusively about life at 60 when she led a delegation to ENCOMIUM's Place, in Ogba, Ikeja, Lagos, on Wednesday, February 16, 2011.
How do you feel at 60?
I feel grateful to God that He has spared my life up till this time.  I am looking forward to July this year, when I will be clocking 60. I actually don't feel 60.  I just feel like my old self and I think nothing has changed.  I still feel the same way when I was 30 and even 40.  I give glory to God for good health and I am still looking forward to a more fulfilling life, even as I grow graciously in Jesus name.
What lesson will you say life has taught you at 60?
Life has taught me to rely on God before any man.  God is awesome and His greatness is beyond human imagination.  As I go deeper in the things of God, I wonder why I didn't know Him much deeper earlier, because it's a wondrous relationship that one will begin to wonder whether there is anything else in the world that can be compared to fellowshipping with God.  What I tell people is that the earlier you get to know God, the better, because relationship and fellowship with God bring a fulfilling life.  So, the earlier we have a deeper relationship with God, the better, because we get joy, inner peace and satisfaction.
At what age will you say you made the greatest mark in your life?
I think when I got married to my husband, had my first child and when I became a born again Christian.
Will you say you have achieved a lot in your career and life?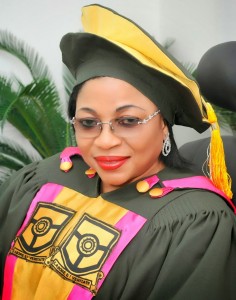 Absolutely. In fact, being in a relationship with God cannot be compared with anything else.  That is why I will say I have achieved a lot.  But, I think I can still do His will because that is my greatest desire.  I also want to see my children getting married and see my grand and great grand children.
At 60, you still look pretty and as if you're in your 40s, what is the secret of your beauty?
It's the grace of God.  That is the truth.  Apart from that, all I can tell you is that I started exercising some few months ago.  I went into dieting when I realised that I was putting on weight.  All along, it has been the grace of God.
Most Nigerian women, even some at your age, do different forms of body enhancement to supplement their beauty, what is your view about this?  Does a woman really need it?
It's so dangerous for women to do body enhancement all in the name of beauty.  If we're talking about people who have had successful operations, what about the several cases of unsuccessful ones?  The unsuccessful ones are more than the successful ones.  The way human body is being treated during operation is similar to the way animals are slaughtered at abattoirs.  It's horrible!  Those ladies that embark on such are lazy.  The best way to look beautiful at all time is to exercise, drink a lot of water and watch what you eat.  Choosing what you eat wisely is a better way to look elegant and not necessarily going through a rigorous surgical operation.  Drinking a lot of water too is another medicine for looking good.  Surgery should only be in the case of life and death.  Without that, I am not encouraging it.
Let's talk about your marital life.  How have you been able to sustain your 35 year old marriage?
Through God's grace and His wisdom.  Communication with my husband has also helped and being able to accommodate one another, loving one another and the spirit of give and take, being patient and humble.  All these put together have helped sustain my marriage.
What type of person is Mr. Modupe Alakija, your husband?
My husband is a wonderful person and I trust him. He's the best husband in the world.  He's kind, loving and gentle. My husband is humorous and very, very responsible.  He fears God and I could go on and on endlessly describing the type of person my husband is.
What are those things you still love doing together with your husband?
Let me see, chatting even when one of us is out of the country.  We speak on phone eight times minimum in a day, regardless of which part of the world we are.  We enjoy each other's company.
What about partying and clubbing?
My husband doesn't love partying as much as I feel there is need to do so. Besides, there is not much recreation in Nigeria.  So, when it comes to party, my husband is the opposite.
We learnt that your marriage is blessed with four handsome boys, how do you feel not having a female child?
I have a granddaughter.
No, we mean your own daughter?
I have tried my best and now I have passed that stage.
Meaning that you're not after a female child for your husband again?
Excuse me, at what age?  At 60! (laughs).  No, no, no!  Besides, my granddaughter has made up for it and I am sure more granddaughters will soon come.
Tell us about your children.
My children are fantastic.  They are lovely children. Very respectful.  I and my husband have done what is expected of parents for the children and now, they need to go to the next level, that is, marriage.  They've been working for years after completing their university programmes.  The youngest, Rotimi, did his first degree five years ago and later went for his Master's degree.  Folarin is also doing well, he's the one that gave me a grand daughter.  Ladi is next after Folarin and the first son, Dele.
Lastly, can you briefly tell us your most memorable childhood experience?
My most memorable childhood upbringing was the fact that I went to school in England at age 7.  Between age 7 and 11 in England was a life changing experience.
This story was first published in ENCOMIUM Weekly on Tuesday, February 22, 2011
Related Stories:
Comments
comments