'It's an insult on all of us'
The interesting item on the lips of many, especially women, is the recent comment by President Muhammadu Buhari that his beautiful wife, Aisha belongs to the kitchen and the other room. The statement didn't go down well with Nigerian women despite the claim by the Presidency that it's nothing but a mere joke.
Some described Buhari's utterance on Aisha as derogatory, demeaning and abuse on womanhood generally. They therefore demanded an unreserved apology from the Commander-In-Chief of the armed forces of the Federal Republic or else he should forget about their support should he intend to come out again in 2019.
Mrs. Aisha Buhari had granted an interview to BBC Hausa claiming that her husband's government has been hijacked by unfamiliar people. And that she might not support his reelection in 2019, if he fails to change course.
Some of her sensitive statements read:
"Some people are sitting down in their homes folding their arms only for them to be called to come and head an agency or a ministerial position.
"There is nothing I can tell him, he is seeing things himself. If you take 50 persons out of the people he has appointed, I don't know 45 of them. Perhaps he doesn't know them too. I have been living with him for 27 years.
"Yes, it is surprising; nobody thought it was going to be like this. But now, it is so. Sometimes when one is doing something wrong without him knowing, he/she should listen when people talk to them. Because in the future, whether he is going to contest or not, it is that same people that would vote for APC.
"I have decided, as his wife, that if things continue like this up to 2019, I will not go out and campaign again and ask any woman to vote like I did before. I will never do it again."
The women ENCOMIUM Weekly sought their reaction also poured out their anger on Buhari, urging him to make a redress as soon as possible.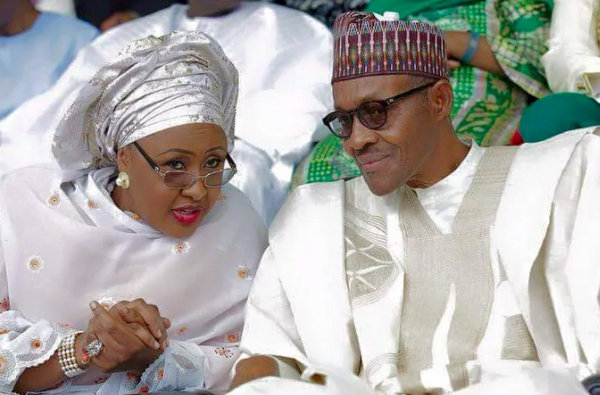 'I have lost my respect for Buhari' -GRACE ALABI
Yes, I voted for him in 2015, but I have lost my respect for him because of that statement. And he can't get my vote in 2019, if he contests again unless he apologises to us, not only his wife. How can he reduce his wife to that level before the whole world? Nigerians are suffering, and the woman has said the truth. I am sure they might have been dragging this issue and the woman was not given attention by Buhari, that's why she voiced it out. The man is too arrogant to have said that. The statement is a let down not only on Aisha but all women. Fine, everybody knows that traditional role of a woman is in the kitchen but it couldn't have been represented in that manner."
'The statement is rubbish'-OMOSEWA ADIGUN
We don't need Buhari to tell us that our role is in the kitchen, every woman knows that. He should settle his home front first. The wife doesn't deserve that kind of public insult. I learnt the Presidency has issued a statement that what Buhari said on Aisha was a joke. If that's true, it's a joke taken too far. Even, before the woman said it, no one is interested in campaigning for Buhari in 2019 let alone voting for him.
'It's an embarrassment to women, not only Aisha' -EMEM JOHN
President Buhari's comment on Aisha was a total embarrassment to the women generally because Aisha represents women folk. I know Buhari can say it, painting the statement as a joke is an after thought. He should just apologise to his wife in their bedroom and tender an unreserved public apology to women generally.
'Buhari got it wrong' -Georgina Okoli
I also believe Buhari might be joking but this is not the right time and the best place to crack that kind of a weighty joke. The situation on ground is nothing funny at all, so sensitive. He should have scolded his wife in confidence if he knew what the woman said didn't go down well with him. I am disappointed in him for insulting her publicly. Apart from the kitchen and the other room he referred to, women are also playing important roles in the society. So, he should understand that Aisha's role in Nigeria as president's wife can't be limited to the kitchen and the other room. I think he needs to work on his utterances generally so that it won't work against his second term ambition.
–TADE ASIFAT
Related Stories:
Comments
comments