BEING the baby mama to a popular celebrity has gradually become the norm in the Nigerian entertainment industry.  However, very few of the baby mamas eventually get married to the fathers of their children.
ENCOMIUM Weekly brings to you the top four celebrity baby mamas who got wifed by their baby daddies.  In cases like this, we do hope and pray their marriages last and they live happily ever after, just like in fairy tales.
ANNIE MACAULAY-IDIBIA – Annie Macaulay-Idibia is the wife of popular music artiste, 2Face.  She sort of became a role model to other celebrity baby mamas, as she and 2Face were together for over a decade and he even had children from other women and she still stuck by him.  They had a lavish Dubai wedding in March 2013.
They have two children together, Isabella and Olivia.  2Face, however, has five children from his two other baby mamas.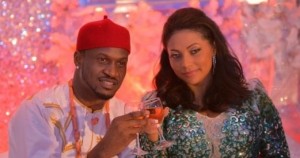 LOLA OMOTAYO-OKOYE – Stunning and beautiful Lola Omotayo-Okoye dated Peter of the P-Square duo for many years before birthing their first child, Cameron Okoye in September 2008.
They both continued dating and she had another child in January 2013, a beautiful baby girl, Aliona.
They eventually got married traditionally in November 2013, in Lagos.
ANITA ISAMA-OKOYE – Anita Okoye is the wife of the other half of the P-Square duo, Paul Okoye.  She also started off as a baby mama and eventually became a wife.
She had their first son, Andre in April 2013.  The couple also got married traditionally in March 2014.
Though Paul is said to have a child with another woman, reasons why he chose Anita as his wife is best known to him.
OMAWUMI MEGBELE-YUSUF – Talented and beautiful songstress, Omawumi Megbele-Yusuf birthed her daughter, Emmanuella Kamillah Yusuf in June 2011, and kept mum about who the father of her daughter was, being a very private person.
Finally, in late 2014, she disclosed the identity of her baby daddy, Tosin Yusuf.
The couple got married in January 2015, at the Ikoyi Registry, Lagos.  The Delta born music diva and her husband welcomed their second child, a baby boy in July 2015.
Comments
comments